The Void
Edit
The Void is a nightmarish dimension said to exist outside space and time, where terrifying living weapons were wrought to win an ancient and long-since ended war. No-one truly understands how the Void came into existence, but tales of its terrible denizens have wormed their way into the dream consciousness of almost every culture's legends, creation myths, and dark folktales. Those few scattered grimoires and madmen that dare speak of the Void at all speak of it as an infinite realm of unfettered creation, tortured landscapes of crazed organic machinery, magical weapon-looms and mountainous flesh-forges. None have yet ventured into the Void and lived, for mortals would almost certainly be consumed and woven into the endless process of creation.
In places where the mystical barriers between Runeterra and the Void have been worn thin, the air feels charged, and fantastical occurrences are the norm. Rivers run with vibrant colors, flowers bloom with incredible perfumes, and living beings experience psychedelic visions and surges in magical power. For a time, such places are wondrous and brimming with miracles, but soon the landscape is twisted into new and deadly forms, and if the Void is able to consume enough biomass to survive, it can grow and evolve into something ferocious and terrifying.
A place between dimensions and between worlds. To some it is known as the Outside, to others it is the Unknown. To most, however, it is called the Void. It is a timeless place inhabited by various seemingly intelligent entities who, for reasons beyond human understanding, have the desire to gain entrance to and vitiate the worlds outside their realm. These creatures are called 'Voidborn'. According to  Vel'Koz, the Void is a very dark place, both he and  Cho'Gath said that the daylight in Runeterra is too strong for them.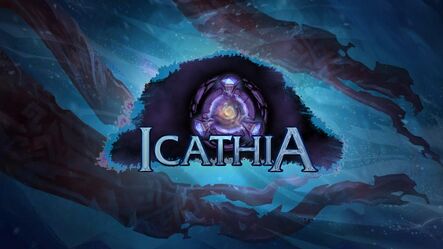 The lost city called Icathia seems to be connected to the Void, as some Voidborn are known to have appeared in the place and some mortals are known to have gained the Void's power in it. Mortals who encounter the power of the Void generally have one of two reactions:
Like  Malzahar, the Prophet of the Void, their minds may be overwhelmed and they may become willing servants to the dark apocalyptic destinies they see emanating from the Abyss. On Runeterra, these individuals are referred to as 'the Cult of the Void'.
Like  Kassadin, the Void Walker, they may be horrified and shocked into an unyielding desire to lay down their lives to forestall the doom they see. On Runeterra, these individuals are referred to as 'The Preservers'.
Some historical evidence show that, in times long p
ast, there were massive magical projects throughout Runeterra oriented toward creating a bulwark against the Void. These projects and their history, however, remain apocryphal.